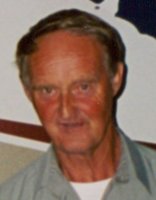 Patrick J. Doyle
Passed away on Saturday, March 10, 2018 at the Carbonear General Hospital, from complications with Parkinson's, Patrick Joseph Doyle of Gull Island, Conception Bay, age 80 years. Predeceased by parents: Walter and Mary Agnes (nee Johnson); baby brother: Francis; sister: Mary Ann Parsons; special nephew: Jamie Doyle; parents in-law: Frank and Sarah Hurley; sisters-in-law: Marg (Bill) Merrigan, Mary, and Alice Hurley; brothers-in-law: John (Elizabeth) Hurley and Edmund Hurley. Leaving to mourn, wife: Julie; children: Ray (Rhonda ), Gull Island, Maureen (Roger) Gillingham, Ochre Pit Cove, Donnie, Gull Island, and Darlene (Darren) Cull, Northern Bay; precious grandchildren, whom he adored and spoke fondly of each and everyday, Tonya (Bradley) Moores, Shane Doyle, Emily-Jane Gillingham, McKenzie Doyle, Deven Cull, and McKinnon Doyle; "Pop Pop's" pride and joy, great-grandchildren: Spencer and Emersyn Moores; siblings, who remember growing up with a big brother who told wonderful stories, took great care of them, and was always there – no matter what!, James (Marilyn), Paradise, Theresa (Mick) North and Edward (Aggie), both of Ochre Pit Cove, Rose (Jim) Tucker, Lower Sackville, NS; special brother-in-law: Ralph Parsons, Ochre Pit Cove; brothers-in-law: Mike (Alverna) Hurley, Buchans and Frank Hurley, Kingston; sisters-in-Law: Loretta and Cecily Hurley, Kingston; also a large number of nieces and nephews who each held a special place in Pat's life; countless cousins whom he spoke of often from far and near, and special friends in the Stockwood, Layman, and Johnson Families, whose visits to the family home were always a wonderful time! Resting at Noel's Funeral Home, Main Highway, Western Bay on Sunday, 7:30 to 9:00 p.m., Monday, 10:30 a.m. to 12:00 noon, 2:00 to 5:00 p.m., 7:00 to 9:00 p.m., Tuesday, 9:00 to 10:00 a.m. Funeral mass to take place on Tuesday, March 13 at 10:30 a.m. from Corpus Christi Roman Catholic Church and Cemetery, Northern Bay. As an expression of sympathy, flowers gratefully accepted or donations in his memory may be made to the Corpus Christi R.C. Cemetery Fund, P.O. Box 79, Northern Bay, NL, A0A 3B0.
"The stories I have told. My work is now complete.
My family and friends are left to continue the earthly journey.
Remember that I have made a difference, Big and small.
I ask that you continue your journey.
And always remember me until we meet again.
Tell the story. Have a laugh. Drink a beer.
Carry on!"