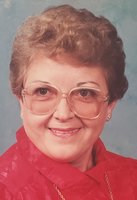 Doreen Penney
Passed suddenly away at her home in Western Bay on the evening of July 9th, Bertha Doreen Penney, aged 68 years. "Doreen" to friends and family.
Doreen was a wonderful wife, mother, homemaker, and still enjoyed an extremely satisfying career as a licensed practical nurse, as part of her "second act"—until an unfortunate injury forced her far too soon medical retirement. Despite those challenges, Doreen Ioved to cook, was a master baker and for decades, spent the weeks leading up to Christmas baking dozens of homemade Christmas cakes, cookies and sweet molasses raisin bread that she freely distributed to friends, family and neighbours as gifts from her heart. Doreen was highly skilled with knitting needles and crochet hooks, and in addition to keeping friends and family clothed, was part of a knitting circle that donated thousands of handmade baby hats and other garments to Newfoundland hospitals for distribution to newborns and their families at no cost. While her physical condition allowed, Doreen loved gardening and took immense pride and satisfaction in making living things grow and flourish in our rocky Newfoundland soil. However, her greatest passion was walking the barrens and bogs in search of delicious wild Newfoundland blueberries, partridge berries, and bakeapples she could turn into delicious jams, jellies and pies for friends and family. Generous to a fault, Doreen lived her life by the motto "A friend in need is a friend indeed." Perhaps a little out of step with these more jaded times, Doreen didn't care. She'd happily go without to ensure those she loved did not. Leaving home at the tender age of just 16, to begin her medical training, Doreen left everything and everyone she knew and made a whole new life for herself. Nothing cowed her once she put her mind to it. She was fearless. Most of all she loved her family and instilled in her sons strong values and a moral compass that have served them well. She will be dearly missed and forever in our hearts.
Predeceased by her parents, Frederick & Marion Baggs of Adams Cove, sister Eileen (Rick) and beloved granddaughter Baby Nicole.
Doreen is survived by her husband Grayson, with whom she just finished celebrating their 50th wedding anniversary this past July 5th; her sons: Sean and Curtis (Stephanie) of Western Bay; grandchildren: Ryan, Caleb, & Faith; brother Bert (Stella), Mt. Pearl; sisters: Florence and Shirley (Leonard), Adams Cove, along with a large extended family of much loved nieces, nephews, cousins and friends. The family will receive relatives and friends at Noel's Funeral Home, Western Bay on Thursday, July 11 from 6:00 to 9:00 p.m. There will be no funeral service. In lieu of flowers, donations in her name may be made to the Newfoundland chapter of the Canadian Lung Association, P.O. Box 13457, Stn. A, St. John's, NL A1B 4B8